Description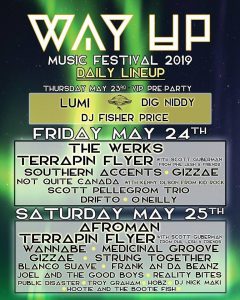 Double Trouble Entertainment and the Radio Results Network are bringing live music back to Marquette's Lakeview Arena with Way UP Music Festival coming Memorial Day Weekend 2019!
The Festival will kick off on Friday, May 24th at 5pm and run through Saturday, May 25th after Midnight. There'll also be a VIP pre-party on Thursday.  This event is a real thrill for us. We've always loved bringing entertainment to Marquette, but we think this will be on a new level. With two world class festival stages we will have tons of live entertainment for the duration of the festival. With a wide variety of artists/ genres, we will have something for everyone.
The initial talent line-up includes Grammy nominated rapper, multi-instrumentalist and musician, Afroman, Southern Accents–a Tom Petty Tribute Band, Gizzae–a Bob Marley Tribute Band (remember them from the UpFront days?), Not Quite Canada, Scott Pelgrim Trio, and Terrapin Flyer–a Grateful Dead Tribute Band. There will also be a strong talent line up of the region's best bands and DJ's. Additional national feature acts will be announced in the coming weeks.
This event is 18 +
The VIP experience for the weekend is $50, you'll pay only $30, hurry there's just one VIP ticket!
Exchange your voucher for a ticket here at our studios, 313 E. Montezuma Avenue, in Houghton.  You must claim your ticket by May 23 at 5:00 PM.